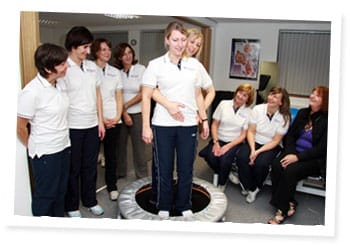 Practice founder and Clinical Director of Burscough Neuro Physiotherapy Anita Wade-Moulton, started the practice in 1989 with a great desire to continue her work in the field of Neuro Rehabilitation whilst also spending time with her young family.
Her vast experience gained through working in the NHS and leading both inpatient and outpatient units allowed her to start on her own as 'Burscough Physiotherapy', now called Burscough Neuro Physiotherapy and Rehabilitation Centre.
It was soon evident there was a demand for specialist rehabilitation in the community, therefore the practice began to grow and with it a need for Anita to build her own team of specialist neuro Physios treating patients in the Lancashire and Merseyside regions.
In 2018 we celebrate 29 years of practice and 11 years since the launch of our rehabilitation centre in Ormskirk. This success has come from our dedicated team of thirteen specialist Neuro Physiotherapists offering a comprehensive service within the community and at the centre.
Alongside Neuro Physiotherapy we work with other health professionals to arrange the following additional services Speech therapy, Occupational therapy, Chiropody, Reflexology, Orthotics, Counselling/Psychotherapy and Podiatry.