Clinical Director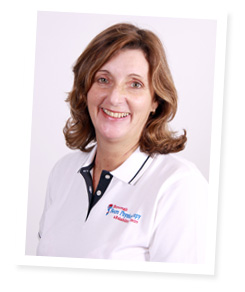 Anita qualified from Bradford School of Physiotherapy in 1982. She then went to work at junior level in Bradford and within a very short time she realised her passion was in Neuro Rehab Physiotherapy. As a result she was asked to help develop the outpatient services for stroke and neuro patients in the NHS in Bradford. Alongside her junior work, with the stroke and neuro patients, she had extensive experience in other general fields of physiotherapy. One area that she also enjoyed immensley was the treatment of patients with amputations an area she has worked on and off over the years.
She then worked as a senior physiotherapist for the NHS in Leeds working alongside a Bobath tutor on the Neuroscience department. She was a founder of the Yorkshire Neuro special interest group (Association of Chartered Physiotherapists interested in Neurology – ACPIN) responsible for organising and running lectures and courses in the Yorkshire area.
She was also Regional Representative for Yorkshire ACPIN, involved in the development of ACPIN at national level in London.
In 1987 Anita took a senior post at Fazakerly Hospital initially in acute medical/stroke care. This post evolved into a pure rehabilitation responsible for the physiotherapy stroke care of all inpatient and outpatients in the South Sefton area.
In 1990 when Anita had the first of 2 daughters she stopped working full time in the NHS to look after them. She did though do a short time working at Ashworth Hospital but then was soon asked if she would see neuro patients privately. Patients were seen at home with the close supervision of her new born daughter (who fortunately always managed to sleep throughout!). Therein started Burscough Physiotherapy.
Throughout this time Anita has attended many neuro courses including Bobath at basic and advanced levels.
She has taught nationally on many post graduate Physiotherapy courses, particularly in relation to Neural Mobility in neurological conditions and has taught internationally to post graduates on the subject of 'Basic Neurological Physiotherapy'
Her philosophy throughout her career is to treat patients needs in a friendly open way with the highest of standards, with honesty and hard work.
She believes if a person is motivated, has some insight into their problems and is able to try then it is worth working with that person.
We dont know what we are capable of if we do not try!!
Call Today
For a FREE Telephone Consultation call 01695 574317 or make an Online Enquiry