M.C.S.P., H.P.C., Dip R.G. and R.T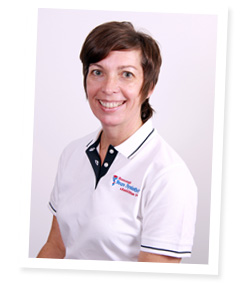 Audrey graduated as a Remedial Gymnast from Cardiff University Hospital of Wales in 1983, then again as a Physiotherapist 3 years later. Her interests and expertise has always been with the speciality of Neurological Physiotherapy and has studied the Bobath Concept closely and has Advanced Certification in this subject. Audrey has maintained up to date training with modern thinking in terms of Bobath, Carr and Shepherd and Conductive Education Concepts.
Rising through the ranks of the NHS she worked in Neurological Rehabilitation in Sheffield and then for many years on the Community Stroke Team in Southport and eventually became a Clinical Specialist in the Neurological Stroke Unit at Southport DGH. Her love however was not in administration but in the grass roots hands on approach to treatment and rehabilitation of neurological dysfunction and she returned to her favoured clinical practice on joining the Burscough Team in 2007 as a full time Clinical Specialist.
Audrey has an holistic approach to her profession, she is genuinely interested in caring for people and in 'treating the person as well as the condition'. Her next development is to commence Pilates training to complement her neurological skills.
Call Today
For a FREE Telephone Consultation call 01695 574317 or make an Online Enquiry