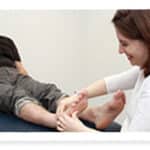 Multiple sclerosis (MS) is an inflammatory disease that affects nerves in the brain and spinal cord, causing a wide range of symptoms including problems with muscle movement, balance and vision.
Research indicates neurological physiotherapy can be hugely beneficial for people with multiple sclerosis (MS). Here at Burscough Neuro Physiotherapy we have provided MS treatment to a wide range of patients at different stages of MS. We can help by providing multiple sclerosis physiotherapy and also talking through your concerns and addressing any problems as and when they arise.
The aims of Multiple Sclerosis physiotherapy treatment are to:
Improve and maintain joint mobility
Improve and maintain balance and co-ordination
Delay muscle spasms
Maintain general fitness
Maintain normal patterns of movement
Specialist neurological physiotherapy is valuable treatment for multiple sclerosis patients and can have a positive effect on your quality of life. We treat each and every patient as an individual and tailored treatments can assist you at whatever stage you are at.