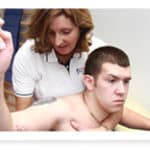 Spinal Cord Injury (SCI) is often traumatic and the spinal cord can be either partially injured or completely severed. Partial or complete spinal cord injury results in the reduction or loss in mobility and sensation.
Burscough Neuro Physiotherapy staff are highly experienced in treating individuals with all levels of spinal cord injury.
The specific treatment plan will depend upon the severity and the level of the spinal cord injury, but will always be tailored to the individual needs of the patient.
Whether you require regular or occasional rehabilitation treatment our specialist team at Burscough Neuro Physiotherapy are experienced in managing spinal cord injuries and can provide short or long-term physiotherapy as required.
Call Today
For a FREE Telephone Consultation call 01695 574317 or make an Online Enquiry