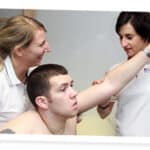 Expert Stroke Rehabilitation & Stroke Recovery at Burscough Neuro Physiotherapy.
A stroke is a brain injury that occurs when the brain's blood supply is interrupted. It can cause many problems, such as:
Memory difficulties
Trouble with walking or balance
Difficulty with daily activities
Swallowing and language problems
Depression and emotional changes
An important part of stroke rehabilitation is neuro physiotherapy. Neuro physiotherapy is a 'hands on' treatment aimed at maximising the functional potential of the neurologically disabled patient.
Also, for those who have lost significant function after a stroke, it is imperative to seek treatment as soon as possible.
Stroke Rehabilitation and Stroke Recovery at home or at our centre
At Burscough Neuro Physiotherapy our team can work with you to help overcome the effects of a stroke either at our centre in Ormskirk or in your home.
Speech-language specialists
Bobath trained physiotherapists focus on mobility and function
Occupational therapists work with you on regaining skills for everyday living
The length of time you will spend having treatment depends on the severity of your stroke and your specific needs.
For those who cannot attend our centre in Ormskirk, we can provide rehabilitation in your home.
Also, visit the NHS for more information visit NHS Conditions – Stroke
Call Today
For a FREE Telephone Consultation call 01695 574317 or make an Online Enquiry