Burscough Neuro Physiotherapy is a Leading Neurological Physiotherapy and Rehabilitation Centre covering Aintree, Merseyside and surrounding area.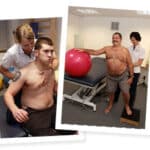 Over the past 25 years Burscough Neuro Physiotherapy have specialised in the field of Neurological Physiotherapy and Rehabilitation. We have gained Knowledge through experience and always keeping up to date with the cutting edge devolopments in Neuro science and Rehabilitation research.
We treat Patients in Aintree who have Neurological and Mobility problems that may have been caused by damage to the brain, Spinal cord, or Nervous system, typically caused by Stroke, Head injuries, Multiple Sclerosis, Parkinson's Disease, or prolonged illness resulting in Loss of Mobility.
With the rising rates of Cerebrovascular diseases and their prompt management Stroke Rehabilitation is an even more essential component in aiding recovery.
Neuro Physiotherapy Aintree – Home Visits
We treat patients in their own homes throughout Aintree and also at our Specialist Rehabilitation Centre in Ormskirk. We have now been established for over 25 years and have fourteen highly trained specialist Neuro Physiotherapists, Speech & Language Therapist, and Occupational Therapists.
Call Today
For a FREE Telephone Consultation call 01695 574317 or make an Online Enquiry